List of shops at Nice Côte d'Azur airport
Published on 17 mai 2022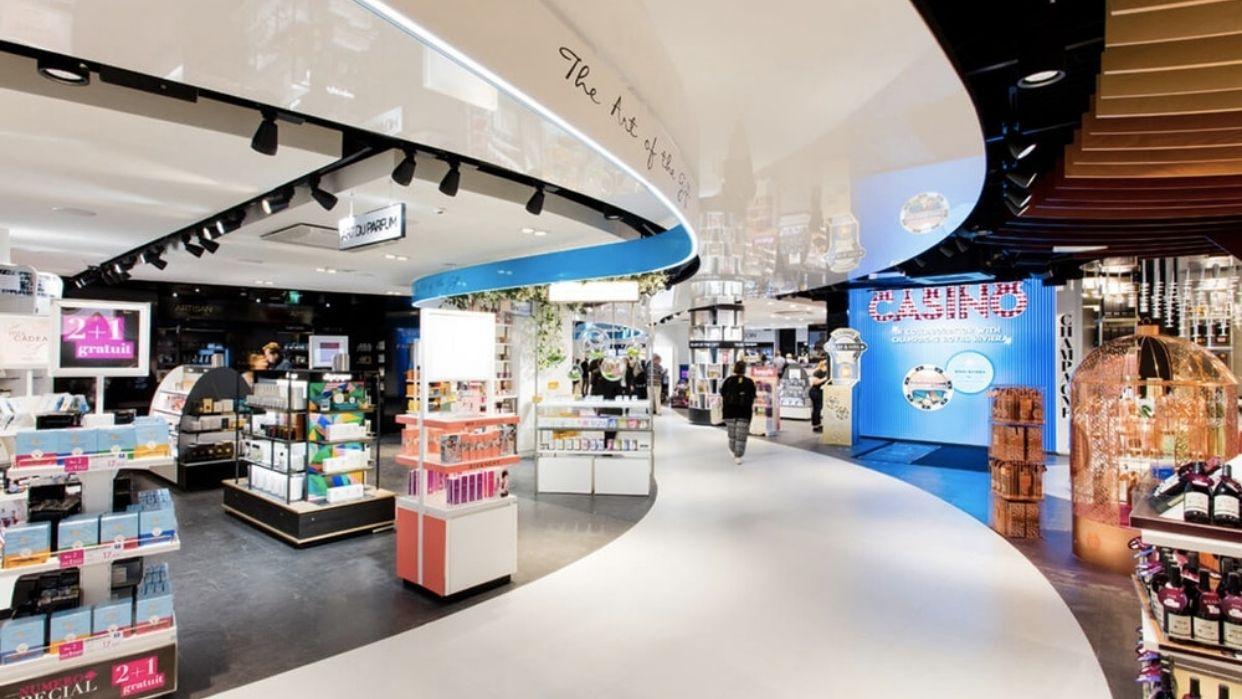 The Nice Côte d'Azur (NCE) airport in the Alpes-Maritimes is the third French airport. When you arrive on site or once you have passed the control filters, you can enjoy a shopping break thanks to a wide range of shops. Here are the main signs in which to have fun before your flight.
Table of Contents
1. Before the boarding area
Before crossing the boarding area, several shops are accessible to the public:
➡️ Pharmacy: The NCE Airport pharmacy is open 7 days a week throughout the year. Located at Terminal 2, it is accessible even for people who are not travelling and who need to buy health products and parapharmacie. Note that there is a parapharmacie vending machine at Terminal 1 for basic items and first aid (dental hygiene, sun products, moisturizers, dressings, etc).
➡️ Relay: For quality support during his trip, 6 Relay shops are located in the T1 and T2. Among these, the traveller will be able to find a wide choice of national and international press, as well as books, travel articles and snacks… what to wait serenely in the departure room. Among the products on sale are various digital accessories, headphones, chargers, memory cards. Also, specific areas of these shops are dedicated to children (gifts, holiday notebooks, etc.). Souvenirs as well as a full range of luggage are also waiting for the traveller, whatever his profile.
2. After the passage of security
Once you have passed the checkpoints and arrived in the boarding area, you will have access to the duty free zone with many shops at your disposal for a very interesting shopping experience.
➡️ Aelia Duty Free Shop: Located at terminals 1 and 2, Aelia Duty Free offers exceptional discounts on a wide range of items. In this shopping paradise, it is possible to find perfumes, beauty products, champagne without forgetting the most popular spirits: whiskies, rum, cognac, etc. Gastronomy is also highlighted with sweet and savory dishes from the region among others.
➡️ Dolce & Gabbana: Symbol of Italian fashion and elegance, the famous brand is present at Terminal 2. In a glamorous and chic environment, the traveller can find ready-madeHigh-end wear but also clothes and fashion accessories of the latest elegance.
➡️ Fnac: Present in Terminals 1 and 2, Fnac offers various high-tech products such as laptops, tablets, smartphones and all kinds of connected items.
➡️ Fragonard: For lovers of artisanal and creative products, Fragonard deserves a visit in T1 and T2. Founded in 1926, this brand sells perfumes, cosmetics, candles and even bags and toiletries. Clothing and accessories are also available.
➡️ Hermès: The famous French luxury brand is to be discovered in both terminals. On the program, ready-to-wear, jewellery, perfumes, leather goods as well as high-end watches. To enjoy and admire exceptional products with sublime design and noble materials, this is where you have to go.
➡️ Ladurée: If fashion lovers will be delighted, gourmets will not be left out with the famous brand that offers, in T1 and T2, a wide choice of ice cream, tea, candles and tasty delicacies
➡️ Michael Kors: For fun or a chic gift, Michael Kors is definitely worth a look. Located in Terminal 2, the luxury boutique offers watches, bags and jewellery of incomparable quality.
➡️ The other shops after safety: Other signs are to be discovered once the safety has passed. This is the case for example of Hour Passion, specialized in jewellery and watchmaking (T1 and T2), Longchamp (T1), Riviera Chic (T1) or The Kooples (T2).
3. Conditions to benefit from duty free
At the airport of Nice Côte d'Azur, if purchases in public areas do not benefit from any tax exemption, it is not the same once arrived at the departure room. In the bonded area, prices will depend directly on the destination of the traveller.
As a result, Duty Free purchases will be exclusively for travellers whose destination is a country outside the European Union. In Nice, there are some shops that will allow you to buy duty free regardless of the destination of the trip. This is one of the special features of the NCE airport: there is no formality for the traveller. Indeed, within this zone, the tax is automatically applied. All you need to do is present your boarding pass and ID when purchasing an item in the bonded area.
4. Reach the airport shops from the city centre
There are different modes of transport to the NCE airport. For travellers arriving by personal vehicle, there are Blue Valet car parks at their disposal. With 24-hour surveillance, these car parks are located in the immediate vicinity of the two terminals. In addition, by making a reservation online, a valet will wait directly for the customer at the drop-off on the day of his departure and will take charge of parking the vehicle in one of the parking lots.
Of course, it is possible to reach Nice airport from the city centre by other means such as long distance bus or public transport. T1-T2 shuttles connect the two terminals once every 15 minutes.
Read also | Pay less for your parking when you leave Nice Côte d'Azur
Read also | Where to park your car easily at Nice airport?